In Coaching for Self-Actualization: Part I, I reviewed how Maslow's work on the Hierarchy of Needs can be used in coaching and the Maslow Centre's re-conceptualization of it in the 21st century. Maslow's Hierarchy of Needs can help a coach better attune to their clients' needs and help them move to self-actualization. Self-actualization is the exploration of who you are and who you can be; it's the realization of your potential. Having unmet needs at the foundation or the hierarchy, however, prevents one from moving to self-actualization. The coach's role is to help their clients explore how to move toward self-actualization and move past any barriers along the way. Now ask yourself this big question: how do our needs show up at work? How does an organization's culture relate to our needs? 
In this article, I will share our ongoing research on how Maslow's Hierarchy of Needs relates to employee experience and organizational culture. The goal of this research is to understand how we can build a Self-Actualizing Organization (SAO) that realizes their people and organizational potential. A Self-Actualizing Organization is a purpose driven, people focused and high-performing organization.   
This research is relevant to all coaches, as it helps us understand how our needs show up at our workplace. For Executive and Leadership coaches, this research can be a guiding framework when working with clients. I believe that as executive coaches, we have a role to encourage leaders to build more people-focused organizations, helping them to realize their people and organizational potential. We need to create a safe space and a reflective container to ask our powerful questions on these topics. Organizational potential is not just about the strategic plan or the business potential, it is about the collective realization of people potential. The Maslow Centre's research shows how to get there.  
Below you can see the Self-Actualizing Organization Matrix. The SAO Matrix is summarized in three columns: 1) Basic Needs; covering physical safety, security and certainty for employees and workers 2) Relational or Psychological Safety Needs; covering belonging needs and self-esteem needs 3) Self-Actualization Needs.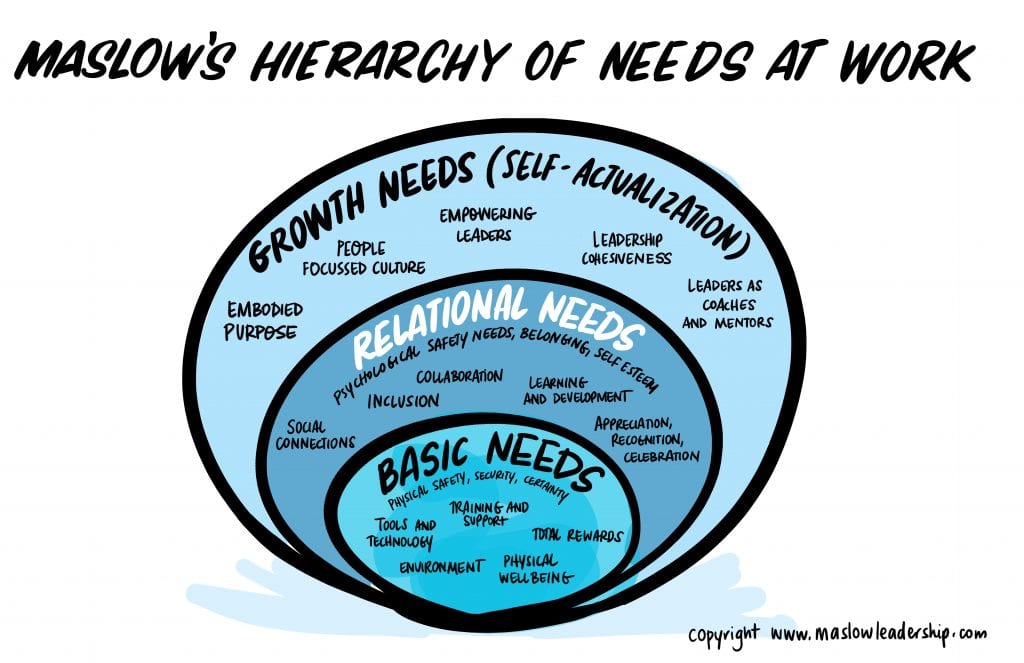 Basic Needs (Physical Safety, Security, Certainty)
Tools & Technology: 

Working technology, hardware, software, internet connectivity, having the right tools and equipment to do your job.

 

Training & Support: 

Understanding expectations at work, onboarding practices, basic training and support for doing the work.

 

Total Rewards: 

Job security, fair pay, benefits, extended benefits, pension/investment plans. 

 

Environment: 

Clean and safe work environment, proper health protocols (COVID-19), ergonomically suitable workspaces, access to beverages, food, kitchen, creative workspace, transportation.

 

Physical Well-being: 

Break time, vacation time, health programs, work from home.

 
Relational Needs (Psychological Safety Needs, Belonging, Self-Esteem)
Social Connections: 

Camaraderie, a feeling of community, emotional support during tough times, friendship, having a good friend at work.

 

Inclusion: 

Ability to be yourself, psychologically safe space, openness to diverse ideas. Freedom to express your thoughts constructively, consultative decision making. Healthy flow of ideas and information. 

 

Collaboration: 

Trusted colleagues, ability to rely on others to do a good job, getting things done collaboratively, teamwork. 

Learning & Development: 

Opportunities to learn new things and increase skill set. Training and on the job development opportunities. Exposure to other leaders, other professionals, other areas in the organization and outside the organization. Receiving mentorship and coaching. Opportunities for advancement.

 

Appreciation, recognition, celebration: 

Personal appreciation and formal recognition of value added and quality of work.  Celebration of good news and successes. 

 
Growth Needs (Self-Actualization) 
Embodied Purpose: 

Having a clear purpose, vision and values that are meaningful, impactful and go beyond profit. These are embodied by its leaders and encouraged through its culture at all levels. Having strategies that realize the purpose. Strategy and goals are not just top down, they are also bottom up. 

 

People-focused Culture:

Demonstrating care for people, stakeholders and the communities they operate within. Having a people-focused culture, modeled by leaders and embodied at all levels. Having people-centered policies, practices and procedures that are derived from creative processes, with ongoing improvement and iterations. 

 
Empowering Leadership: 

Leadership Cohesiveness:

 Leaders work cohesively, are aligned, can hold conflicting views without losing respect. 

 

Empowerment

: Belief in people's potential, high trust, giving autonomy, freedom to manage, freedom to choose, freedom to act, openness to new ideas and creativity. 

 

Leaders as Coaches & Mentors: 

Leaders are great mentors, coaches, focusing on helping their people grow and reach their best selves both individually and collectively. There is a sense of cultivating people as individuals with unique needs. Leaders and the system are raising other leaders, creating legacy, succession.

 
Employee experience and culture is not just a human resources job. It's actually shaped by the leaders. Leaders need to acknowledge their role in creating a great workplace experience and senior leaders need to role model the culture they want to see. As coaches, we need to ask more about organizational culture. If leaders increase their focus on people and foster the right environment for them, they can get to where they want to be faster. Our questions should be focused on purpose, culture and leadership cohesiveness, along with how they as leaders are empowering, coaching and mentoring their people.